Get a local or toll-free number
Stay close to your customers or relatives with a local number
No hardware or software to install
Keep your existing phone and number
Manage your privacy
Distinguish between your business and your private calls.
Receive calls and texts
on your virtual number
As if you had a second cell phone!

Adding a virtual number to your phone is easy
No hardware or software to install. Here is how it works: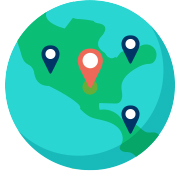 1. Get a number
Get phone numbers in many countries around the world. 1 See the list here
Numbers can be national or regional2.
For regional numbers, you can specify the region/city.
Our service can redirect your calls on any kind of phone. 3
First, we will redirect callers to your
mobile phone number , but you can change this number once your account is created.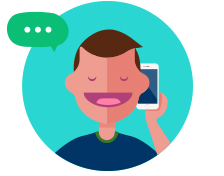 Activate your new phone number and start receiving calls.
You will get access to an intuitive dashboard that will let you track your call activities and manage all your numbers in one place.
1. Note that certain countries can bring some specificities. (E.g. Germany will ask you for a local email to get a German phone number)
2. A national (Toll-free) number, is a number your callers can dial at no charge.
3. Calls can be redirected to desk phones as well as mobile devices, with or without extensions.
Trusted by thousands of entrepreneurs
Ubigo allows entrepreneurs to improve their service by enabling them to keep their professional
activities separate from their personal lives, and that is, using one single mobile device!